Wazifa to Create Love Between Husband and Wife
Wazifa to Create Love Between Husband and Wife ," If there is a fight between husband and wife all the time or husband and wife do not love each other, do not listen to each other and you want that love should arise in both of you, then you should do this wazifa. It is very beneficial to create love between husband and wife. With the help of this wazifa, never ending love will arise between husband and wife and there will never be a fight between the two.
Also Read – Powerful Dua To Stop Husband Cheating 
Wazifa For Love Between Husband and Wife :-
Read this wazifa 100 times and blow over the salt and use this salt in any curry.Inshallah there will be love in between husband and wife.Before and after this wazifa read 3 times Dorood e Shareef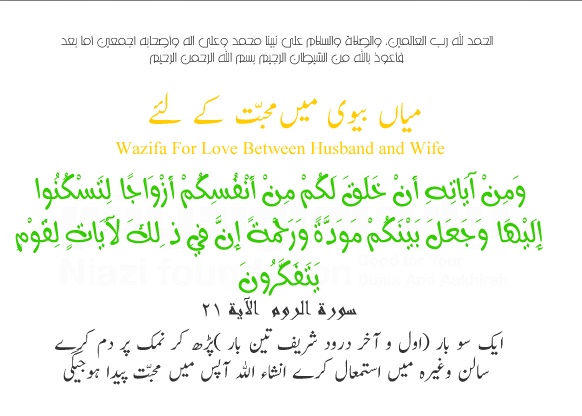 Shohar ka gussa khatam karne k lehe Ism Pak "Ya Waliyo" parain.  Aur raat ko bawazoo ho kar bistar per leetne se neend aane tak "Ya Manioo" ka wird karain. Insha Allah shohar ka gussa biqul khatam ho jaye ga aur Mian Biwvi main mohabat peda ho ge.
Aksar Miya Biwi Me Baat Baat Par Jhagda Hota hai. Jin Khawateen Ke Shohar Un Par Had Se jayada Gussa Karte hai Wo Apne Husband Ka Gussa Khatam Karne Ka Wazifa Kare.
Durood Shareef 3 martaba parhye. Phir "Ya Lateefu" 69 martaba parhye. Aur tel (oil) pe dum kar dijiye. Aakhir main Durood Shareef parhye 3 martaba parain. Ye tel (oil) apne shohar ke sar pe raat main laga dijiye. Ye amal apko 3 raato tak karna hai.
Agar kisi ka shohar ghuse ka bohat taiz ho aur baat baat pe gar walon pe ghusa krta ho tu shour ka ghusa kam krne k lehe ye wazifa parain.
Surah-e-Aal-e-Imran ki ayat No 134 ko chini (sugar) per 101 martaba lagatar 21 din tak parhain aur shour ko pela dain Insha Allaha faida ho ga.
Please follow and like us: